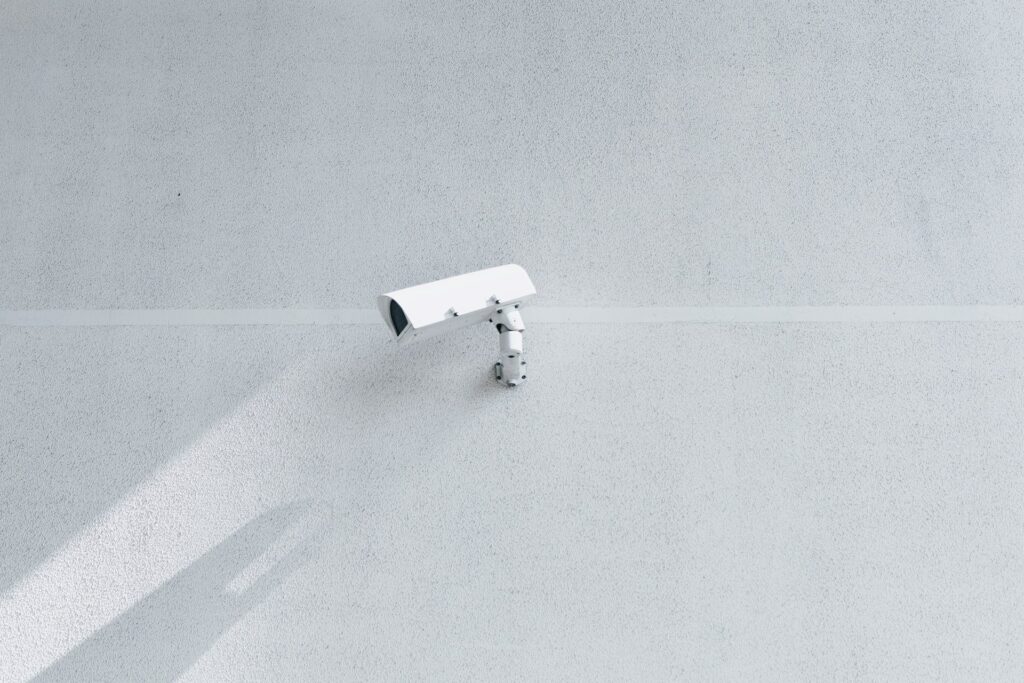 Surveillance systems help keep your property secure by recording evidence of crimes committed on your property. More than this, but these video-recording capabilities also act as a deterrent to criminal behavior. One study found that installing video surveillance cameras on parking lots reduced crime by as much as 51%.
What Are Video Surveillance Cameras?
A video surveillance camera is a recording device capable of capturing security footage of an area of interest around your home or property. In modern surveillance systems, the surveillance camera is often a high-definition capture device capable of detecting and capturing motion, which helps keep an area secure.
Modern surveillance systems are best described as closed-circuit systems. Commonly referred to as closed-circuit television (CCTV), these systems capture security footage, which is then transferred to a digital video recorder (DVR) and stored for later viewing. These systems are considered the most secure, efficient, and cost-effective methods of video surveillance today.
Types of Video Surveillance Cameras
There is a wide range of camera models currently available on the market. But all of these camera options fall under two main categories:
Analog Cameras:

Traditional cameras that offer lower resolutions and are connected to the DVR through coaxial cables. In these systems, the camera must be close to the DVR for better-quality images.

Digital Cameras (Internet Protocol/IP):

Digital cameras generally have higher resolutions, producing higher-quality images. These cameras connect to a network video recorder (NVR) and can do so wirelessly. Cables are only used when connecting the NVR with the power source.
The following examples of camera types fall under these two categories:
Dome Cameras (Internal and External) –

Cameras that come with a protecting dome covering that makes it difficult to see where it's pointing.

Zoom Cameras (PTZ Pan, Tilt) –

Remote-controlled cameras that allow operators complete freedom to keep track of targets and movement.

Discreet Cameras –

Cameras that can be disguised and are ideal for indoor surveillance purposes.

Bullet Cameras –

Compact and tube-shaped cameras with cylindrical-style bodies.

Thermal Image Cameras –

Not often easily distinguishable from standard cameras but are capable of detecting motion based on body temperature.

High-Definition Cameras –

Commonly used in high-risk environments and institutions where high-resolution images are critical.
Businesses That Can Benefit From Having a Video Surveillance Camera
All businesses can benefit from the installation of a surveillance camera system on their premises. However, some companies have more incentive to acquire extra protection. These include the following:
Construction Companies
Construction sites are prone to theft, trespassing, and vandalism. As a result, projects get delayed, and expenses exceed the entire budget. A surveillance camera can help deter criminal activity and secure all valuable equipment and materials.
Banks and Financial Institutions
It's no secret that banks require increased security to help secure their clients' money. Installing bank surveillance cameras enables security personnel to detect suspicious activity within their premises 24/7.
Utilities and Communication Companies
Utilities and communication companies offer services critical to society's functioning. As such, all their equipment must be kept secure from vandals, thieves, and trespassers.
Commercial Properties
Video surveillance cameras are essential as they help protect your property from burglaries and vandalism. They also protect employees, visitors, and tenants from any crime that may occur inside the property and the immediate vicinity.
Retail Establishments
Retail establishments must invest in loss prevention to maintain their businesses' profitability. Video surveillance cameras can help deter thieves and catch shoplifters in the act in real-time, securing your inventory and protecting your bottom line.
Advantages of Video Surveillance Cameras For Businesses
Keeping your business protected from any security threat should be a primary concern for any business owner. The following are some of the benefits you can enjoy with the installation of a video surveillance camera system.
Peace of Mind
The mere presence of video surveillance equipment on your premises offers peace of mind. By acting as an early warning system, these pieces of equipment can help detect the presence of intruders, fire, and smoke, which is absolutely critical in emergencies.
Theft Deterrent
They say prevention is always better than a thousand cures. In this case, preventing theft is always better than trying to recover the items stolen from you – and a surveillance camera can help you with that. Whether the threat is an outside thief or an employee, the mere presence of a video surveillance camera can deter thieves from stealing from you, protecting your inventory and your bottom line.
Liability Protection
Video surveillance cameras can document instances of inappropriate behavior on your premises. They can also offer documentary evidence of any incident that may or may not have occurred, shielding you from any potential liability. For instance, a customer may claim to have slipped due to a puddle of water but did not actually happen. Video footage can clear you from such a lawsuit, saving you a significant amount of time and money.
Asset Protection
Each year, businesses lose up to 7% of their annual revenue to theft and burglary. This figure also doesn't account for other potential losses you may experience, such as the destruction of property due to vandalism. Aside from acting as a deterrent to criminal behavior, security footage can also aid in identifying crimes as they happen, which helps prevent inventory loss. Further, it can provide additional insight into problematic behavior and reduce instances of workplace incidents, protecting your assets from damage and loss.
Get the Best in Video Surveillance Technology at Aeon Systems
As a business owner, keeping your assets and inventory secure is crucial in protecting your investment. Invest in video surveillance equipment from a reliable provider to prevent losses and ensure your bottom line.
Aeon Systems offers a complete range of security solutions for residential and commercial properties, helping protect your precious assets. We also provide and install security devices on any existing system to greatly enhance your security capabilities. Visit our website to learn more about our services, and contact us to request a free quote.