Commercial & Residential Fire Alarm Systems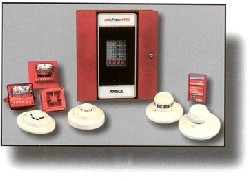 Aeon Systems offers custom fire alarm systems to protect your Home or Business with an early warning and prompt emergency response in a situation where every second counts.
No matter the size of the environment you wish to protect or the level of protection you wish to provide, we have a system compatible with your needs and your budget.
A home fire alarm system is usually part of a total security system providing burglary protection in addition to fire protection.
More than just a smoke detector, fire security systems monitor doors, windows, and spaces within the home from intrusions. With a fire security system, a second layer of protection can report a fire or intrusion to the monitoring center as well as the local authorities.
Protect Your Home or Business With Our Fire Alarm Devices
Fire Alarm Systems can be reprogrammed and monitored by our local 24 Hour U.L. Listed Central Station, but some panels are proprietary.