Aeon Systems knows how important it is for homeowners and business owners in Midlothian to keep their property safe from intruders. Though we've only been serving this area since 2004, we have more than 35 years of experience in the security industry, and we're constantly keeping up to date on changes in technology.
Commercial Security
If all your business needs is an intrusion or fire alarm, know that we carry plenty of high-quality options. Our fire security systems, on the other hand, extend across a client's property and provide not only fire protection but also protection against burglars. When the system goes off, it will immediately alert our monitoring center; from there, we can contact the proper authorities to deal with the issue.
You have a choice in whether or not you want to install video surveillance cameras. We have an affordable option that's ideal for small businesses, which comes with four dome cameras and all the necessary hardware. We'll set everything up and then instruct you on how to operate the controls. You can also think about getting a hold-up system, complete with buttons to press in the event of a hold-up.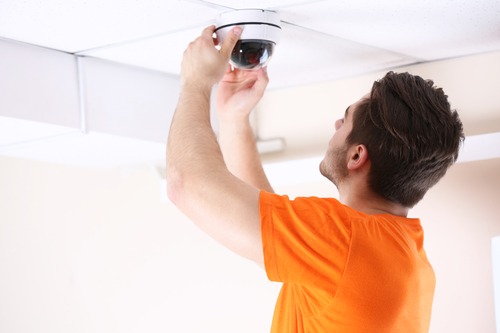 Residential Security Alarm System
Our video security system, mentioned above, can be great for single-story homes. You can similarly request our 24/7 Midlothian alarm monitoring services, and if you have a contract with another facility that's about to expire, we'll reprogram your system so that our team can monitor it.
With home automation, you can make your home into a smart home. Our company offers interactive security solutions in Midlothian and surrounding areas, which allow you to stay connected to your home via a handheld device whenever you're outside.
We offer products from well-known brands like Bosch Security, so call us at Aeon Systems to take a look at them. We're proud to serve customers in Midlothian, and we'd be happy to meet your needs.
Our Services
Aeon Systems provides complete Midlothian security services, including hardware, the latest technologies, and supplementary services to ensure your safety. 
Ensure your safety and security by linking your alarm system with Aeon Systems' 24/7 alarm monitoring service. We have a fully-staffed monitoring headquarters where security specialists constantly monitor security system activities from all our customers throughout the state. 
UL listed monitoring facilities

Professional, full-time staff

Round-the-clock monitoring, 365 days a year
If a break-in attempt trips your home or business alarm system, trust that security staff at the Aeon Systems monitoring stations will receive the notification, verify the emergency, and alert the nearest police station to send someone to your door immediately. 
Locked doors deter intruders and unauthorized people from entering a restricted area or private property. However, the danger doesn't begin and end with someone attempting to open a locked door or breaking a glass window. Once your monitoring system detects threats before they happen, our alarm monitoring staff can prevent an incident from happening altogether by alerting the authorities.
Take control over the physical security in your offices or business premises by managing access control in your building or facility. Our access control system prevents costly damage to your prized assets and maintains the security of your most confidential information.
Easy-to-manage, cloud-based access control

Remote management via desktop or mobile devices

Complete control and monitoring of events
Aeon Systems designs access control networks that let you decide who gets network access to information or who may enter restricted areas that contain valuable assets or sensitive materials and equipment. Conversely, you can restrict access for people without credentials or appropriate security clearances. 
Create schedules, manage permissions, monitor events, and generate data for reporting with Aeon Systems' access control systems. 
Enjoy peace of mind knowing that your home is secure thanks to an interactive and automated alarm system by Aeon Systems. Whether you are thousands of miles away on a long business trip or out of town with friends for the weekend, you can keep tabs on your house and ensure everything is well in your absence. 
Smart home security

Automated thermostat and lighting settings

Mobile alerts if you forget to arm security or activate locks
Our interactive security solutions enable homeowners to keep an eye inside and around their property while away on business or vacation. Our system notifies homeowners about weather conditions and power outages, provides live and recorded video feeds, and detects activities via built-in image sensors. 
Prevent crimes from happening to or around your property by installing one of the most effective deterrents against vandalism and burglaries: video surveillance. Reinforce your on-site security with high-tech, 24/7, real-time surveillance equipment and services.
Robust video surveillance equipment for indoor and outdoor use

HD, wide-angle cameras that capture crisp and clear images

Multiple viewing modes with night vision for round-the-clock surveillance
When hiring full-time security personnel becomes too costly, real-time video surveillance can help fill the gaps in your on-site security. Aeon Systems assembles CCTV systems with impressive HD video and audio capture capabilities, reinforcing real-time monitoring and providing reliable footage for data-gathering and investigations.  
Protect your people and property from fire hazards by investing in reliable fire alarm systems. Aeon Systems provides top-notch smoke detection systems with impressive early warning features that help save lives.
24/7 smoke detection and alarm system

Integrated anti-intruder detectors for doors, windows, and rooms

Integrated Alarm Monitoring service by Aeon Systems
Every second counts whenever a legitimate fire threat arises. Early detection and timely alarm deployment are crucial to getting people out of harm's way and containing the damage to save as much property as possible. Aeon Systems goes the extra mile by supplementing quality fire alarm equipment with round-the-clock Alarm Monitoring at our two fully-staffed monitoring facilities. 
Comply with your city's requirements to set up a comprehensive alarm system in your home or business with the help of Aeon Systems. Apart from designing and installing Midlothian alarm systems, we help customers submit applications for the necessary permits for residential and commercial alarm systems.
Assistance in alarm permit applications

Online links to government resources

More information on costs and restrictions per zoning district
Alarm permits are mandatory in many cities to reduce false alarms that steal precious time and resources meant for real emergencies. When applying for a permit, you'll be asked to provide your name, address, and contact information to the local authorities.
Ensure Your Safety With the Best Security Services in Midlothian
Protect your loved ones and livelihood with the help of our knowledgeable and experienced security specialists. Aeon Systems has kept families and businesses secure since 2004, providing the best security services in Midlothian. We are a family-run company that understands every customer's drive to protect their people and most valued assets. 
Maximize our expertise and superior Midlothian security services to ensure your safety and protection. Contact Aeon Systems and request a free quote today.