While most of the recent public protests and demonstrations in the US have been peaceful, some of them have resulted in property damage and, in particular, destruction, vandalism, and looting to both shops and businesses. In light of this, many retail and business owners have decided to up their business security by taking a few important security precautions in case they are hit with a worst-case scenario. These security measures will not only protect your building and property, but it will also help protect both your staff and clients who may be working or visiting your commercial space. At Aeon Systems, your safety is always our number one priority, and below we explore six business security measures that you can implement to either prevent or help protect your commercial property: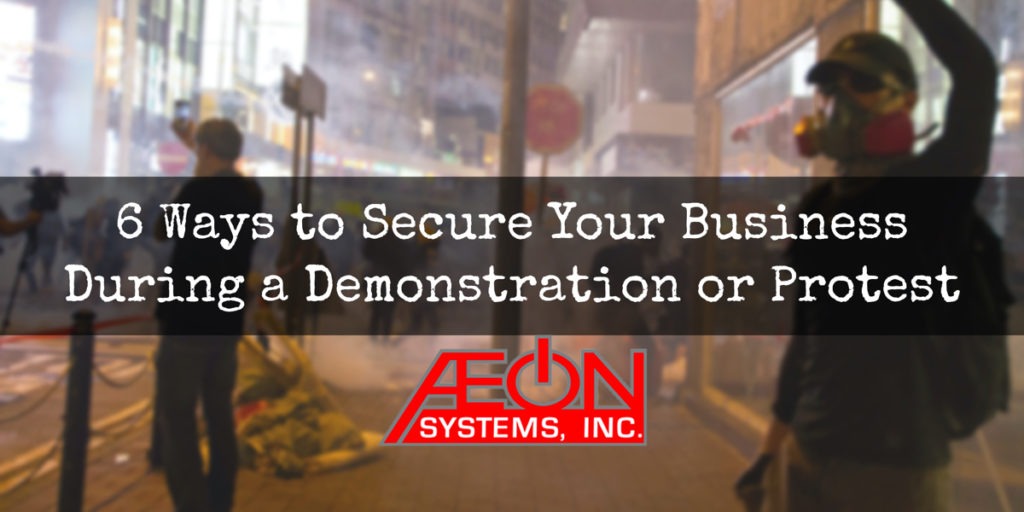 1. Be Sure To Check What Events Are Happening When
Certain municipalities require permits to be granted before any public demonstrations take place. Once these permits are granted, they are then published, giving business and shop owners time to prepare. However, not all groups will comply with permit regulations, so some demonstrations may still happen without any warning ahead of time. However, if you hear murmurs of an upcoming demonstration, see if you can do some digging to find out more and confirm if what you've heard is true.
2. Think About Possibly Closing For The Day
If you have heard that a demonstration is set to take place, perhaps it is in your company's best interest (and for the safety of your staff) to close for the day. If things get out of hand, your clients or visitors may be stuck or trapped inside your building, office, or retail space for hours. Perhaps think about letting your employees work from home for the day if they can. Having fewer employees and customers on-site will keep them out of harm's way.
3. Create and Communicate Emergency Lockdown Procedures
For the safety of your clients and your staff, create a lockdown procedure if, in the event, you need to close and secure your business or shop quickly. Assign yourself or staff members to different tasks and make sure certain steps are taken to ensure safety and security. For example, one person can call the police, while another staff member can secure the doors and windows, and someone else can set off the alarm. Remember to have backups in case the assigned person is not working or off sick that day. Email everyone regularly to remind them of who is responsible for what, and put up signs to make sure everyone knows the various security procedures to follow.
4. Put Up Security Cameras
Did you know, the mere presence of video surveillance cameras has proven to deter people from damaging or breaking into a property? Plus, security cameras record any security breaches that may take place at your commercial property. And, without actual footage of the intruders, it can become very difficult to lay charges against the perpetrators. Nowadays smart alarm systems allow you to see inside or outside your business from an app on your phone, at any time. You are also able to remotely control things such as door locks, lights, and other devices in your business from home. On top of this, smart security systems also help to make it seem as though someone is there when in fact it is empty.
5. Install An Alarm System
Installing a business alarm system is a great way to notify you if someone is at your property––either when you are there or not. As you can imagine, siren business alarm systems can also act as a major deterrent to trespassers and often scare them off before they actually enter your business premises. Security companies such as Aeon Systems have a monitoring facility that is UL listed and staffed around-the-clock, 365 days a year, which means someone is available to help 24 hours a day.
6. Check Your Insurance
Now is as good a time as ever to check exactly what your business insurance policy covers, especially when it comes to property damage or break-ins at your business residence. If you don't have insurance, it might be worthwhile taking out a policy that can assist you should anything ever happen. Be clear about what you want to be covered, and make sure you are 100% happy with what your insurance provider can offer you within your budget. If not, go somewhere else!
Looking for a company to help improve your business security? Aeon Systems is always available to assist in any way that we can. We offer affordable commercial security and comprehensive security solutions that can help protect you, your staff, and your clients should anything happen.
Call Aeon Systems today at 817-466-9079 to find out what security solutions we can set up for your business. Or have a look at www.aeonsystems.net to see the different business security systems services we offer. And, as always, we are happy to answer any questions that you may have.